Hermitage of Sant Llorenç del Munt
Visit times: to arrange visits please contact M. Dolors Farrés on 649 131 172 or on 938 852 510.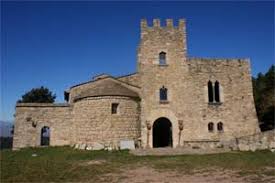 Although it gave its name to a castle estate in the year 886, the existence of this church was not recorded until 1012. The building consists of a nave covered by a vaulted archway with a semicircular apse to the east.
Practical information
How to get there: from Folgueroles take the N-141D towards Vilanova de Sau – Pantà de Sau (Sau Reservoir). Once you pass through the Mina Tunnel there is a track on the right that leads directly to Sant Llorenç. It is possible to get almost all the way to the church in a four-wheel drive vehicle; alternatively it can be reached on foot.