Monastery of Ripoll
+34 972 704 203 | informacio@monestirderipoll.cat |  www.monestirderipoll.cat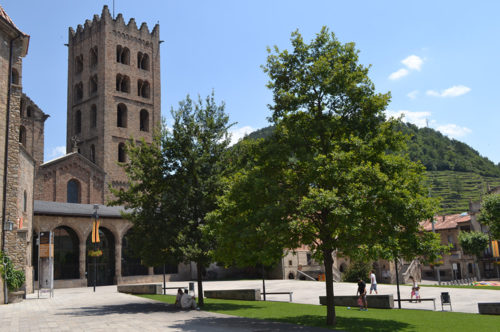 The monastery of Santa Maria was founded around 879 by count Guifré el Pilós (Wilfred the Hairy). It was fundamental in the development of Romanesque architecture. Its restoration between 1863 and 1893 mark the period of plenitude and then the end of the Catalan renaissance movement.
Practical information
Prices:
Standard entrance fee: 6.80€
Discounted entrance fees:
Under 25 and over 65 anys: 5.00€
4 to 12 year-olds: 2.75€
Standard: 6.80€
Groups of up to 20, retired or unemployed people, young people between 13 and 25, people visiting with someone who has permanent residence in  Ripoll, 'large family' card holders or 'single parent' card holders: 5.00€
Children between 5 and 12 years old: 2.75€
Schools: 2.5€
* Please enquire for these discounts:
Under 5 year-olds, Ripoll residents, all Ripollès schools, accredited members of ICOM, Official guides accredited by the Catalan Government.
Guided tours in Catalan or Castilian for up to 30 people: 70€/group (the entrance fee is not included)
Guided tours in English or French for up to 30 people: 80€/group (the entrance fee is not included).
Groups must book beforehand.