Guided tour of the historical centre of Vic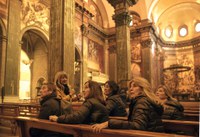 Saturday has always been market day in Vic's Plaça Major and, over time, the locals have turned the market into a festival, featuring clothes, crafts, poultry, flowers, local produce… Take a look around and shop at the most traditional market in Catalonia. And in the afternoon… GUIDED TOUR OF THE HISTORICAL CENTRE: city walls, Roman temple, City Hall, paintings by Josep Maria Sert... and short tour of the central nave of the cathedral and of the main collection of the Episcopal Museum.
County: Osona
Town: Vic
Practical information:
Times: Saturdays at 5 pm
Information and bookings: Vic Tourist Office
Duration of the tour: 1 hr. 30 min.
Price:5€  per person
Children under 12: free admission
You are advised to book in advance: 93 8862091 / turisme@vic.cat
Contact:
Plaça del Pes – Edifici Ajuntament | 08500 – Vic (Barcelona)
93 8862091
www.victurisme.cat| turisme@vic.cat| Tel. 93 8862091